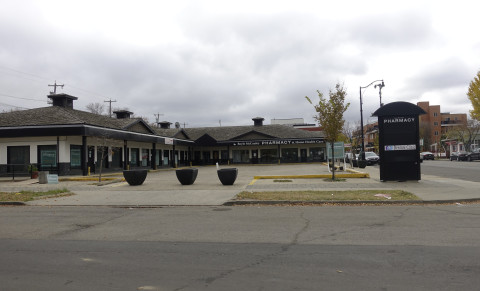 Residents. Neighbours. Business Owners.
Investment cooperatives are a remarkable tool for communities to come together and address both economic and social needs that often seem daunting for individuals acting alone. They represent a dynamic organizational approach designed to cater to the aspirations and operational requirements of groups, whether small or large.
An inspiring example of the transformative power of investment cooperatives is the formation of the McCauley Development Co-operative, formed with a bold vision to acquire the challenging strip mall - The Piazza.
FAQs on Investment Co-operatives
What is an investment co-op?
An investment cooperative is a for-profit business owned and governed by its members. Because an investment cooperative is a for-profit business it can provide members with a return on their investment.  By issuing investment shares, an investment co-op gives people the opportunity to pool funds for investment opportunities that benefit the local community. This type of investment vehicle, unlike a regular corporation, is authorized under the Income Tax Act to accept investments made by way of cash and/or by transferring RRSP or TFSA funds into a self-directed RRSP or self-directed TFSA.  
There are many different types of cooperatives in Alberta including financial institutions such as Credit Unions, retail stores such as Mountain Equipment Cooperative, housing co-ops like Sundance Housing Cooperative, natural gas cooperatives such as the Foothills Natural Gas Co-op and agriculture cooperatives such as UFA, one of Canada's largest cooperatives.    
How are investment co-ops governed?
They are governed by a Board of Directors which oversee the operations of the organization and the property.  
As an investment cooperative, they operate democratically on a one-member, one-vote basis, so that all members have equal voting power. All members must be investors and all investors must be members of the cooperative.
Can I use RIFs money for this investment? 
Registered Income Funds (RIF's) are not eligible for this investment opportunity. 
What happens to the property on dissolution? 
In the event that cooperative members decide to liquidate and close the cooperative, the property will be sold and after liabilities are paid, net proceeds will be returned to members through the redemption of investment shares and payment of any unpaid dividends.   
How can I get my money out? 
Subject to the approval of the Board and subject to the Cooperatives Act, a member may withdraw their funds by giving 90 days' notice in writing of the intention to withdraw. A member who has withdrawn from membership shall not be entitled to the redemption of any member investment shares, until repayment or redemption is permitted or due, as provided by the Cooperative's bylaws and articles of incorporation.    
For more in-depth information on Co-operatives, please refer to the Government of Canada's Information Guide.